Following Monday's twin earthquakes that shook Haiti, two individuals were killed and more schoolchildren were injured.
In southwest Haiti, where a strong tremor killed more than 2,000 people last summer, the shocks sparked terror. The incidents on Monday also occurred a few days after the disaster's anniversary from 2010, which claimed more than a quarter of a million lives.
The first earthquake, measuring 5.3 on the Richter scale, shook the southern peninsula of the nation and sent residents of Les Cayes onto the streets.
According to USGS, the first earthquake in the Nippes region happened around 8:16 am, about two miles to the south-southeast of Anse-à-Veau and close to the city of Les Cayes (EST). Even Port-au-Prince, the nation's capital, experienced the shock.
A second 5.1-magnitude tremor was recorded about 2.5 miles west-southwest of Petite Rivière de Nippes roughly an hour later.
According to Haiti's civil protection service, 50 people between the ages of 15 and 23 were rushed to the hospital in a condition of shock and two people died and scores of pupils were hurt.
According to officials, 591 residences were damaged and 191 were demolished in one area.
A landslide at a sand mine was caused by the earthquake, according to Yves Bossé, an elected official for the southern department of Nippes. He claimed that businesses closed for the day and homes had cracks in them.
People are afraid to enter their homes again, he claimed.
Schools in the vicinity also shut down and sent students home, according to Sylvera Guillame, director of Haiti's civil protection organization for the country's southern region, who spoke to AP.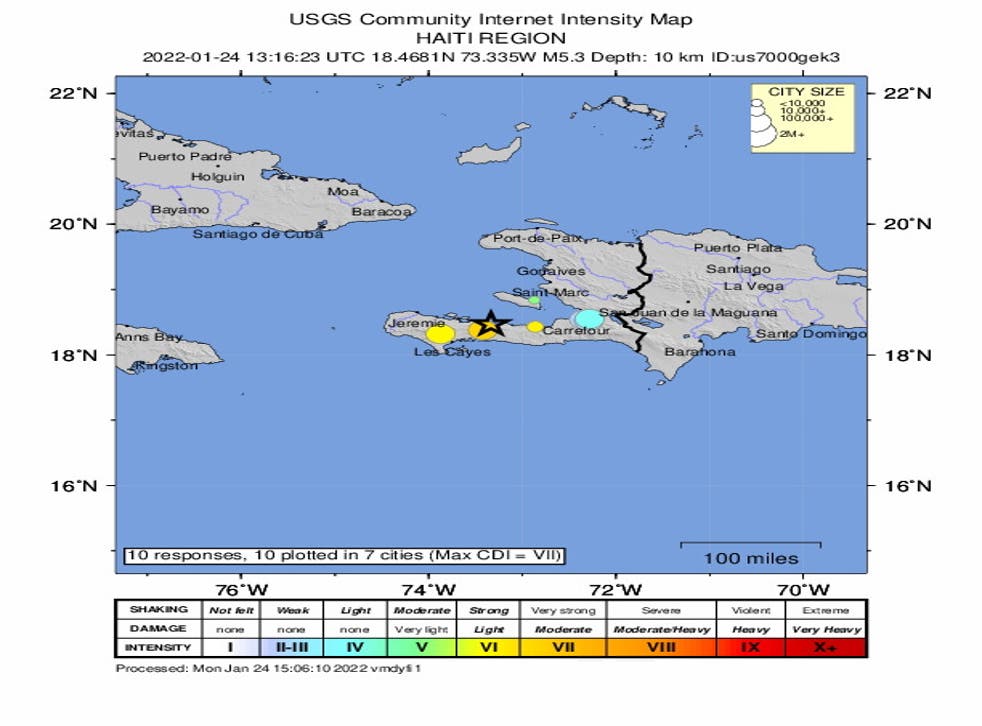 More than 100,000 buildings were damaged and another 200,000 were destroyed by the earthquake. Mr. Henry claimed that even though billions of dollars were spent on behalf of Haiti, no one has evidence of where some of that money ended up.
A 7.2-magnitude earthquake that struck Haiti in August of last year killed more than 2,200 people, damaged or destroyed around 137,500 homes, and forced many to sleep outside.
Haitians are suffering from hunger, an economic crisis, and escalating political upheaval as a result of the frequent calamities. Jovenel Mose, the president of the nation, was killed in July at his residence.